These workshops help teachers create the learning environments and classroom communities necessary to maximize the effectiveness of arts integration.
Acting Right: Building a Cooperative, Collaborative, Creative Classroom Community Through Drama
FOR TEACHERS GRADES K-8
LENGTH: 3 HOURS
This workshop takes the foundational elements of acting such as concentration, cooperation, and collaboration and creates a structured process, which can become the basis for effective classroom management every day. This engaging, step-by-step approach empowers students to take ownership of and be responsible for their own behavior. Learn how to help students build the skills necessary to establish a sense of self-control, accountability, and teambuilding in your classroom.
This workshop is recommended for any classroom based in active, social, cooperative learning.
*See Acting Right video on our video page!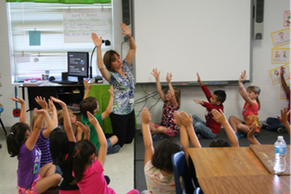 Developing Concentration and Cooperation Skills Through Drama
FOR TEACHERS GRADES 2-5
LENGTH: 3 HOURS
From circle time to morning meetings, teachers are in search of ways to build a mutually supportive community with their students. This workshop shares strategies to incorporate drama improvisation games into the classroom to strengthen development of the important social-emotional skills of concentration and cooperation.
This workshop is led by Kassie Misiewicz.
Academic Conversations in the Arts Integrated Classroom
FOR ADMINISTRATORS, ARTS SPECIALISTS, AND TEACHERS OF ALL GRADE LEVELS
LENGTH: 2-3 HOURS
An arts integrated approach to teaching is grounded in collaborative, social, cooperative learning. The heart of this approach is the students' ability to effectively engage in, navigate, and negotiate purposeful conversations. This session explores how to establish the literacy of academic conversations that develop the speaking and listening skills required of Common Core Standards and 21st Century Learning.
Designing Classroom Spaces for Arts Integration
FOR ADMINISTRATORS, ARTS SPECIALISTS, AND TEACHERS
ALL GRADE LEVELS
LENGTH: 2 HOURS
Arts integration and 21st century learning require collaboration, creation/design, and the engagement of higher order thinking. Unfortunately, many classrooms were not designed with this type of learning in mind! In this session, consider how to redesign and organize your classroom's physical layout and furniture arrangement so it is flexible and can support students' ability to be creative and collaborative while constructing and demonstrating their understandings through the arts.
Art Teachers: A Palette of Management Strategies
FOR ARTS SPECIALISTS
ALL GRADE LEVELS
LENGTH: 3 HOURS
Teaching art can be both fun and challenging. As a classroom teacher or visual art specialist, how can we help our students to work effectively and creatively when handling art making materials, having academic conversation and making multiple transitions? The answer lies in teaching not just the content of the art form but behaviors, procedures and reflective thinking processes as well. In this highly interactive workshop experience tangible examples of classroom management in an art making classroom that will equip you to teach art with structured creativity so your students can thrive as artists.