Assessment and Documentation
These workshops focus on ways to assess and/or document the process and product of arts-integrated learning.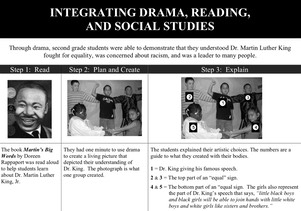 Documenting Student Learning in the Arts
FOR TEACHERS OF ALL GRADE LEVELS, ART SPECIALISTS, AND ADMINISTRATORS
2-3 HOURS OF INSTRUCTION TIME
Communicating what students have learned through arts-integrated instruction can be complex and challenging. How do we share the learning process or the depth of student understanding when a product or performance only shows a part of it? In this session, explore purposes, components, and formats for communicating arts-integrated instruction and student learning, and consider ways to align them to the needs of various constituencies, such as school administrators and parents. A wealth of experience and authentic examples of documentation that demonstrate student learning in a variety of art forms and subject areas is shared in this workshop.
Extend the Experience: Documenting Student Learning in the Arts
Session 2: PLANNING AND CREATING DOCUMENTATION
2-3 hours of instruction time
School administrators, parents, and the field of arts integration need your help to develop a better understanding of the advantages of integrating the arts across the curriculum. This follow-up session to "Documenting Student Learning Through the Arts, Session 1" provides an opportunity for you to begin planning how to implement your own ideas for documenting your students' learning. The workshop includes an examination of ways to organize information into a structure that tells a clear and concise story about the lesson's objectives, process, and outcomes as well as a demonstration of how publications and digital narratives can be created using Microsoft Word and PowerPoint.
Arts Integration and Formative Assessment
FOR ADMINISTRATORS, ARTS SPECIALISTS, AND TEACHERS
ALL GRADE LEVELS
LENGTH: 2 HOURS
In arts integration, students are engaged in a creative process to construct and demonstrate understanding through an art form. The teacher's role is to guide/facilitate students through that creative process. How well are students navigating that process? Is the product they are creating hitting the mark? What should I do next? These are all questions teachers ask themselves. The answers are found in formative assessment, or assessment for learning. This session, along with an example lesson, examines and demonstrates how teachers use formative assessment in arts integration.